Jewel in the Crown
The Arrowtown and Lake Hayes region is one of New Zealand's most desirable locations and Northbrook is nestled here near the feet of the Crown Range, Remarkables and Coronet Peak.
The area attracts those seeking the benefits of a well-connected, healthy, rural lifestyle with sophistication available as and when they need it. Boasting easy access to Queenstown's world renown boutique retail, ski fields, vineyards, fly fishing and cycle trails, Northbrook's location is second to none.
Getting there
Set against a stunning mountain backdrop, Northbrook will be a 5-minute drive to Arrowtown and a 10-15 minute drive to Frankton and the Queenstown International Airport.
Open in Maps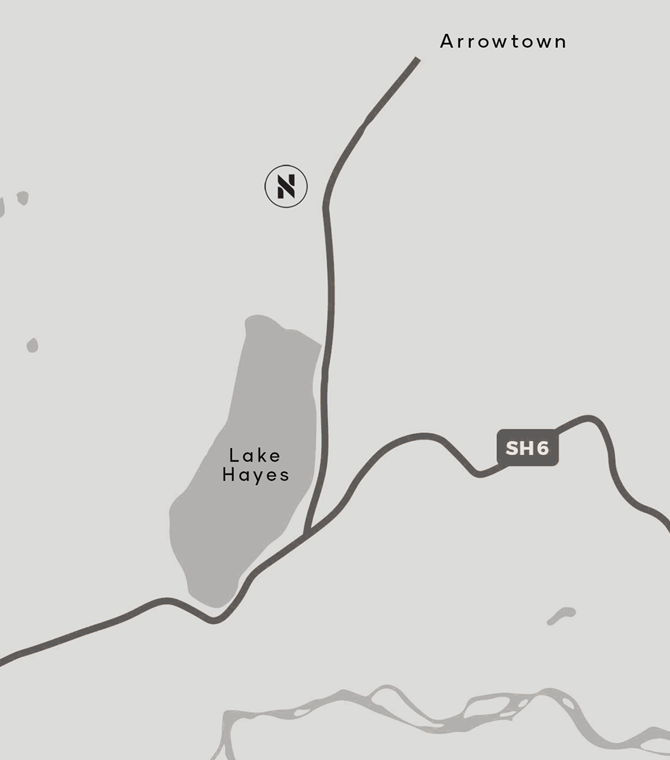 A rich history
Steeped in heritage, Arrowtown is rich in gold rush history and pastoral landscapes established by early pioneers. Character filled streets are lined by well-preserved historical buildings and cottages, now home to cozy bars, homes, lodges, restaurants, shops and galleries.
The village's development and architecture is designed to respect and reflect this very special heritage.
Ayrburn Farm
Northbrook's site is located on what was known as Ayrburn Farm, one of the original farms in the region. William Paterson first converted the land for agricultural use around 1865 - 1867, naming the farm 'Ayrburn' after the town of 'Ayr' where he was born in West Kilbride, Scotland.
Ayrburn Station became one of the most highly regarded estates of the Wakatipu Basin, hosting the areas first A&P show in 1904 and is now the site of several heritage buildings including the Ayrburn Domain stone buildings and the Ayrburn Homestead with it's grand tree-lined entrance.
Local luxuries
The Arrowtown region attracts those with the most discerning of tastes. It is home to dozens of the country's best known vineyards including Amisfield and Mount Soho, both award winning wineries within 5 minutes drive. Arrowtown itself has a growing reputation for quality foods, markets and some of the regions very best restaurants.
The area surrounding Northbrook is an international golf mecca. The championship courses of Millbrook and The Hills are both adjacent to Northbrook and minutes away. Arrowtown Golf Club and Jacks Point are equally spectacular and a short drive away.
Neighbouring Northbrook is Waterfall Park, with soon to be offered bespoke wellness, dining and lifestyle facilities.
 As a resident of Northbrook you'll always be connected to the finer things in life while enjoying a natural, scenic setting and a warm local community.
Subject to registration under the Retirement Villages Act 2003