Where is Te Kauwhata?
Auckland's favourite Kiwi town
You've probably driven past a thousand times and have no idea what you've been missing. Te Kauwhata is a classic Kiwi rural town with friendly locals and a strong community you'll love being part of. It's also perfectly placed for easy access to Auckland, Hamilton, The Coromandel, national parks as well as thriving agricultural and industrial hubs. Next time you are driving between Auckland and Hamilton, pull off SH1 to find your slice of Kiwiness.
Getting there
Lakeside is situated at 98 Scott Road, Te Kauwhata. From Auckland, take SH1 south towards Hamilton. Take the Te Kauwhata offramp and turn left towards Main Street. Lakeside is situated immediately south of the existing village centre. The main entrance with a range of display homes and our sales suite is located at the end of Scott Road.
Open in Maps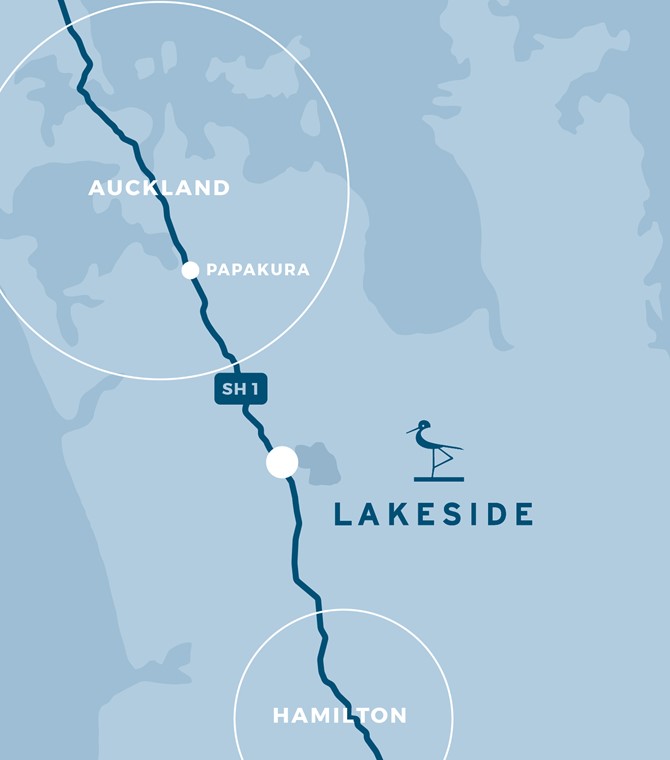 Life at Te Kauwhata
Lakeside will see for the first time public access provided to the banks of Lake Waikare and its surroundings, via the creation of over 5km of walking and cycle trails within Lakeside's 185 acres of dedicated reserve land.
The Lakeside Village Centre will provide the residents of Lakeside and the wider community with valuable community facilities all within walking distance of home. Work is already underway on the planned Village Centre which may include a childcare centre, a medical facility, a café and restaurant, communal office spaces and a children's playground. Whatever your needs, the Lakeside Village Centre will be a meeting and focal point for a vibrant growing community which will ensure that Lakeside will be both a great place to live now and for future generations to come.
Te Kauwhata has a range of education options with three early childhood learning centres, two primary schools, Rangiriri full primary and Te Kauwhata College.
Lake Waikare
An enormous body of water you've driven by but never knew was there
Just a stone's throw from State Highway 1 is one of the North Island's best kept secrets. Lake Waikare is an impressively large body of water and the backdrop to the Lakeside development. Providing ever-changing vistas, extensive walking and cycling tracks and a natural habitat for the abundant bird life, you'll love living above the banks of Lake Waikare. 
Enquire Now
Or visit our display homes, open Saturday & Sunday 1pm-3pm
Or by private appointment, 98 Scott Rd Te Kauwhata
Mike Woods
mike.woods@bayleys.co.nz
+64 21 675 011
Bayleys Real Estate Ltd
Mark Fourie
mark.fourie@bayleys.co.nz
+64 21 349 530
Bayleys Real Estate Ltd, Pukekohe
Nigel White
nigel.white@bayleys.co.nz
+64 22 121 0700
Success Realty Ltd, Bayleys